CAP & GOWN AND YEARBOOK Distribution

5/28/2020

Dear Seniors and Senior Parents,
As we look towards celebrating and honoring the Class of 2020 we are excited to host the first annual CAP & GOWN AND YEARBOOK distribution on Tuesday, June 2, 2020.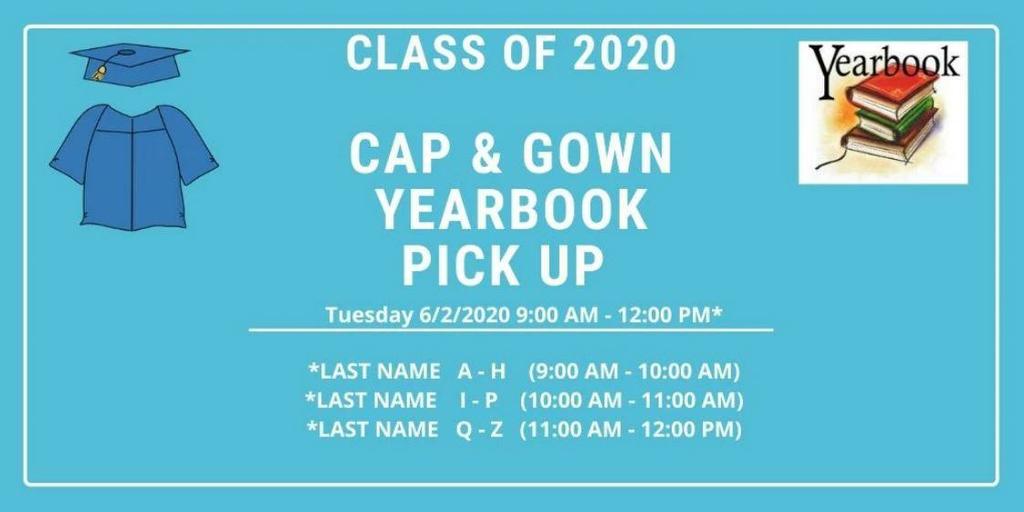 This drive-through event has been designed in accordance with up to date NYS Governor initiated Covid-19 regulations.and the distribution of both cap & gowns and yearbooks will be contactless. Upon arrival you will remain in your car and we will bring your bagged items to you
In order to enhance efficiencies we ask that students honor the following schedule for pick-up:
*LAST NAME A - H (9:00 AM - 10:00 AM)
*LAST NAME I - P (10:00 AM - 11:00 AM)
*LAST NAME Q - Z (11:00 AM - 12:00 PM)
Upon arriving on campus you can expect the following:
Arriving by automobile: Please drive up the hill towards the top circle where you will be provided with further instructions by security team personnel. You will not need to park, nor will you need to exit your car at any time during this process.
Arriving by foot: Please walk along the path adjacent to the front parking lots up to the main auditorium door area. The main auditorium door cement apron will be the central area designated for foot traffic. Please wait here for further instructions from personnel. Please also make sure that you have a mask with you if you are arriving by foot.
You, or a member of your family, are the only individuals who will be allowed to pick up your cap & gown, or yearbook. You may not pick up for friends, sorry!
If you have any questions, please do not hesitate to contact the Herricks High School Main Office at 516-305-8700.
I am looking forward to connecting with you again at this event,
Joan Keegan, Principal
Andrew Frisone, Assistant Principal
Bryan Hodge, Assistant Principal